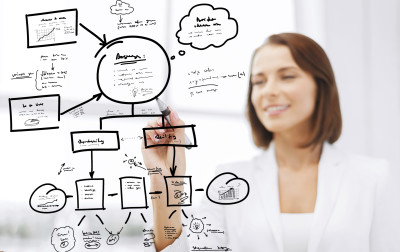 It's no secret that "word of mouth" has always been considered one of the most powerful forms of marketing for a business.   Social media today is the ultimate word-of-mouth marketing.  Getting people to connect with you online in the social space helps spread the word about who your company is and your products and services.  So there are really two functions of social media for business:  1) Are you participating in the conversation and sharing, and 2) Are you listening and monitoring what is being said about you.
Social media takes work, there's no doubt about it. Any business that has tried running their own Facebook and Twitter profiles knows that gaining new customers is more difficult than it seems.  What role should social media play in your marketing?  At the end of the day, with right tools and strategy in place, social media marketing can be scary and should/will play a large part in your overall digital strategy.
Social media's role in your overall digital strategy comes down to four main things:
1) Building a fan base
2) Reputation monitoring
3) Conducting customer service
4) Generating leads
The Xcite Group's Social Media platform is made to guide businesses through these four foundational blocks and ensure that they're getting the most out of social.
1) Building A Fan Base
Building an engaged audience in social media can be a daunting task, and for many local businesses it's the main reason why they quit updating their pages long ago.  To cultivate a successful social media presence, everything you share needs to have some value to those you are trying to engage with.  It should not be blasting your products, services, or specials every day on your social profiles.  Businesses with successful social media accounts have one thing in common: they offer a steady stream of interesting content to information-starved followers. To stay top-of-mind, posts should be made on a regular basis and sent evenly throughout the week.  Finding and writing that much material is a challenge for any business, big or small.   When done correctly, Social Marketing helps businesses find interesting content that their customers will want to share with their friends.  This can help take some of the burden of the content creation challenge off of the business.   Once you are able to curate interesting content that your followers engage with, the road map for your own content creation becomes clear and the idea of social link building can begin.
Social Link Building
Social link building is similar to traditional organic link building, except you are going to find link opportunities from social media.  Here are five ways to learn what content you should be creating, which will likely result in people linking to your site.
Curate content closely related to your niche and share it via your social networks.
Monitor the user engagement and identify content that was heavily shared, liked, re-tweeted, etc.
Create a new piece of original content closely related but better than what you shared.
Contact everyone who engaged with the curated piece and let them know you have something they would love.
Relax while your new piece of content is being shared, liked, and linked to.
2) Reputation Monitoring
Managing your reputation is nothing new; every business has been doing it for as long as businesses have existed. What IS new is how the Internet and social applications have changed the way reputations spread.  Reputation Management is simple: It shows businesses what all of these customers are saying and helps them improve their visibility in local searches.  But what are the top things you should be monitoring for your company's online reputation?
The accuracy of your data in business listings across online directories, review sites, and social networks. This includes name, address, phone numbers, website URLs, etc.  Inconsistent listings generate low "trust" factors, which can lead to poor placement in search engine results.  See our Listings Distribution Case Study for BMW of San Francisco, for more information on business listings accuracy.
Monitor reviews of what customers are saying about you across the top review sites like Google, Yelp, etc.  Customer reviews and online word of mouth heavily impact small businesses' bottom lines.  Are you able to measure your return on investment for your reviews?
Mentions about your business from social media posts.  These unstructured mentions come from anywhere on the web where someone has mentioned your business without giving it an explicit rating. For example, Facebook status updates, tweets, blog posts, and news articles.
Your competition's online reputation.  The ability to track competitors' deals and social activity comes in handy for seeing how active they are and which promotions are most effective.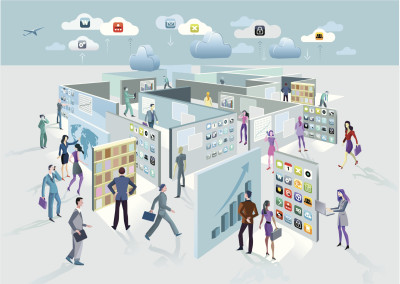 3) Conducting Customer Service
Most companies understand the importance of customer service.  With 89% [1] of U.S. consumers saying that they've gone to a competitor after a poor customer service experience, it's clear that a business's ability to listen to complaints and provide solutions is linked to its success.  However, it's amazing how many businesses haven't formed a strategy for addressing online concerns and complaints and fostering social online relationships.
It's no surprise that successful customer service is about two-way communication.  By engaging in conversations on social media, your customers won't feel the frustration of automated phone systems or emails that seem to disappear into the abyss.  Personal responses work best, and on social media that is easily attainable.  By replying quickly to new comments and direct messages, businesses can give their customers a great experience with an added human touch.  More than 51% of Facebook users and 81% of Twitter users expect a response to an online complaint or question within one day. With that kind of time pressure, companies need a way to instantly hear about what their customers are saying to them and reply at a moment's notice.
[Tweet "More than 51% of Facebook users and 81% of Twitter users expect a response to an online complaint or question within one day"]
4) Generating Leads
I believe that an exciting part of social media marketing is the ability to find relevant leads based on searches for keywords and phrases. These results are current and can be based on your location.  Social media isn't just about "likes" anymore.  It can build your brand, strengthen your presence on search engines, deliver real-time insights to your business and provide leads and a measurable ROI.  Building a fanbase can be difficult, especially for people like plumbers, insurance brokers, and locksmiths who might have difficulty finding enough content to post.  With  strategic social media marketing, local businesses can use social networks like Facebook and Twitter to find people who are talking about subjects related to their products and services.  By setting up a list of searches, you can find customers in your area and start an immediate conversation.  The applications are truly endless.  For example, a realtor can tell which Twitter users in their city are tweeting about apartment hunting and send them a link to their next open house. Or, a locksmith can search frustrated tweets from people in their city who just locked their keys in their car and send them a quick message that he is in the neighborhood and could be there to unlock it for them.
Business can also find leads based on check-ins.  Platforms like Facebook and Foursquare allow users to "check in" at places via their mobile devices.  As a business, you can now see who's checking in, encourage visitors to keep coming back, and entice new customers by monitoring the competition and knowing when to make the right offer.  You could reward frequent visitors for their loyalty, offering specials for first-time or new check in's and even monitor who's checking in at competing businesses and send them a message for the next time they are out.

Your Existing Customers – The True Power in Social Media 
Connecting with your current customers is one of the most powerful ways you can increase business online and off. Your current customers have the power to persuade your target audience to convert. Whether your company exists completely online, has a brick-and-mortar presence, or services customers at their location, getting existing customers to comment on your posts is great leverage for your advertising. When past customers rave about your services or products in an online review or on your social media pages, it adds powerful personal testimonials that others will believe far more than any tag lines or promises you can come up with.
Recap
Social media is a tool that we use to inform consumers about who we are and provide more information about our products and services.  Social media also offers us a chance to monitor how consumers are feeling about our brand and how they are choosing to engage with us online. Here is how:
We can use social media to provide a more human identity to who we are and the products or services that we offer.
 We can create relationships using social media with people who might not otherwise know about our products or service or what our company represents.
 Social media makes us "real" to consumers. If you want people to follow you, don't just talk about the latest product news, but share your personality with them.
 We can use social media to associate ourselves with our peers that may be serving the same target market.
 We can use social media to communicate and provide the interaction that consumers look for.
What Plan Do You Have For Your Business?
Every day, customers are talking about businesses online, whether it's on Google+, Facebook, Twitter, Yelp, personal blogs, or elsewhere.  About 61% of consumers read online reviews before making a purchase decision.[2]  Whether you are ready to accept it or not, this plethora of chatter has a direct impact on sales.  By knowing your audience, interacting with them on their terms, and making engagement easy and attractive, you can elevate your brand and even drive revenue.  Having access to suggested content, customer service abilities, and leads data changes the way businesses think about social media. It's that kind of information that helps increase followings and build real ROI.
If you would like to learn more about the strategies and tools that could be part of your social media strategy, contact us today at 720-288-0539 or fill out the contact form in the sidebar of this website and we will gladly schedule a time to go over your current state of social media and what we might be able to do to help!