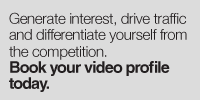 Promote, demonstrate or inform in a personal way
If you are passionate about what you do and your company has a great vibe, then nothing communicates that stronger than a video profile.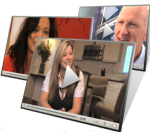 Seen as more personal and genuine when compared to
traditional ads, a video profile introduces personality and a face to you, your company and your products and services.
According to comScore, 52% of viewers take action after watching an online video.
Profile are the Most Versatile Videos on the Web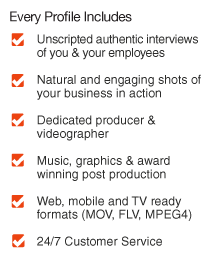 Companies
Bring businesses and corporate messages to life
Services
Highlight individuals or businesses in the professional service industry
Products
Demonstrate how great your products are in real life
Places
Showcase destination or experience-based businesses