Incorporating Video Into Your SEO Strategy Video
Video can be a powerful tool for enhancing your online presence, especially if you take the right steps to optimize your content.
However, businesses who want to add video to their SEO strategies need to first ask themselves if their current website is optimized for search engines. It's not enough to just add a video to your site without considering important factors like well-planned navigation, site structure, internal site links and title tags. If your website does not have a good crawlable structure, and your videos are not easily accessible from the first page, then visitors might not be able to find them. While videos in themselves are great for increasing engagement, trust and conversions, your return on investment (ROI) will be minimal if visitors cannot access them.
How Can Video Enhance Website SEO?
It has been revealed that it is 53 times easier to reach page one of Google search results with a video than it is with a web page 1.
Here are the reasons why:
Video is More Noticeable than Text
The greater visibility can be demonstrated with a study conducted by Moz.   Using eye-tracking systems and heat maps, Moz researchers collected data from the search engine results pages (SERPs) of pizza shops. When they looked up "how to make a pizza," they found that viewers went directly to the first video thumbnail on the results page, and then to the text underneath, in an "F" pattern.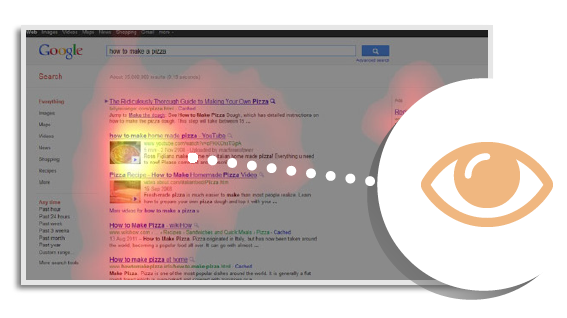 Video is More Engaging Than Text
Popular search engines like YouTube and Google use engagement rates to identify and deliver quality content.  When content has a high engagement rate like video, (400% higher engagement rate than static content) it can increase your ranking in SERPs and the chances that people will find your business.   Three ways these engagements are measured are:
 Social Sharing
Time on Site
Repeat Users
We have created a Video SEO guide series that will walk you through that process by covering three facets of video SEO:
1. How video can enhance your website's overall ranking
2. How to create metadata for your videos
3. How to tag your videos with your metadata to enhance your online visibility.
You can download them here: