The Xcite Group
Klint Rudolph, Ryan Meissner, Mike Klabon & Rob Schmela founding partners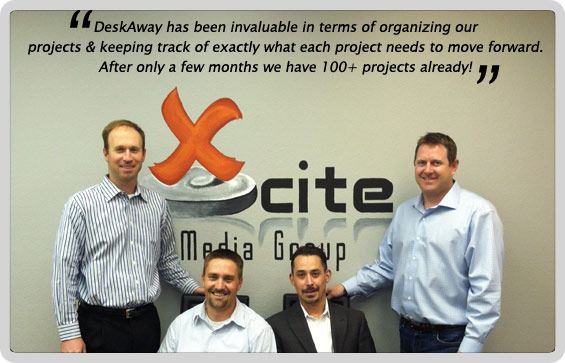 The Xcite Group offers integrated internet marketing solutions to bring their clients more business online. Their services include full web design and development, Search Engine Optimization (SEO), Facebook customizations, apps for Facebook, web, and mobile, custom QR code design, and expert Search Engine Marketing (SEM) with comprehensive tracking.
Klint Rudolph, Ryan Meissner, Mike Klabon & Rob Schmela founding partners of The Xcite Group shared their views on how they use DeskAway…
How are you using DeskAway and what value is it providing your team? Were you using any other tool or method before DeskAway?
We use DeskAway to manage all of our projects in all of our offered services. We use an extensive task list template for our web development process, issues for website updates and maintenance, the centralized file and documents area to coordinate our media and documents, and the team-based collaborative notifications and messaging center to stay synced and up to date on the progress and needs of all of our web development and SEM projects.
DeskAway has been invaluable in terms of organizing our projects and keeping track of exactly what each project needs to move forward. After only a few months we have over 100 projects already!
Before DeskAway we used Google Docs, Gmail, and Google Chat, and lots of paper printouts – not efficient at all!
Can you give a specific incident or example when DeskAway was really useful when managing or getting a project completed?
One of the most helpful components of DeskAway for me as the web developer at Xcite Media is following the task list template. This ensures that each of our projects has gone through all of the steps we have developed, from setting up our preview server, to cloning the site on our public server, to SEO tasks. Being able to follow the list and check off each step makes it easy to remember where each project was left at and what to do next. It also is very helpful when we need to delegate a task to another team member in order to move forward.
Was there a learning curve associated with DeskAway? How did your team adapt to a new application?
It took us some time to become efficient with DeskAway, but overall the system is pretty self explanatory.
What features does your team use the most?
We use the Task list, Templates, Docs, Messages and Issues the most.
Are you emailing (sending tasks, attachments etc.) less because of DeskAway?
Yes, though we set it up to send an email with every DeskAway action since we monitor our emails constantly.
How has DeskAway helped in lowering project costs, profitability or improving efficiency?
DeskAway has helped lower our costs in two ways, first, on a per project basis, we are able to complete the project more quickly because we can manage it better, especially when we have dependencies on other team members. Secondly, DeskAway has made it much easier to keep track of multiple projects at one time, so that we can jump between them based on the status of each to be able to complete more projects at a time.
Are there any other thoughts that you would want to share with us regarding our service, product etc.?
We started using DeskAway as a test to manage our web development projects. Soon we were using it for all of our projects beyond web development. Now it is the go to system whenever anything is needed. We are even relying on DeskAway to keep our company synced across four states!
Thanks The Xcite Group & good luck with your business!
Content courtesy of DeskAway.    http://www.deskaway.com/casestudies/xcite-media/index.php