Challenge: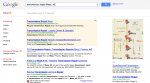 We had a client that we had done some consulting for and had a good relationship with.  He had his automotive repair website built with a company that was also doing search engine optimization (SEO) and managing his pay per click with Google AdWords.  After 6 months of running the AdWords campaign and some basic SEO, he had asked us to take a look at his results and get our thoughts.
Analysis:

We got access to their reporting and metrics from their campaign and began to dissect what was going on with their account.  The first thing we noticed was that his overall CTR (click through rate) through 6 months of his campaign was 0.40%.  From a base level, a CTR below .50% isn't helping his ppc cause.  Without spending a ton of time on the subject, the Quality Score of a Google AdWords campaign is calculated on a series of things, one of them being CTR of the AdWords campaign.  Quality Score determines your placement and cost and therefore a campaign that is running at a sub .50% CTR more than likely has several things going on with it.  There are many articles where folks site a successful AdWords campaign should run at between 1% and 3% CTR.  We also asked them what metrics they had in place to track the performance of their paid search campaigns.   Tracking your conversions is very important in any paid search campaign, even if it is just basic conversion tracking.  If you are able to track conversions on a much more granular level, you are able to garner a lot of helpful information in your campaigns.  For example, being able to determine exactly what ways someone is typing in a search that lead to high conversion percentages.  At the time, our client was not doing any sort of

conversion tracking at all.  Their only performance metrics were impressions and clicks.  We also noticed that their Impression Share (the percentage of time their ads were actually showing on Google in a search) was 48%.  That means that of all the searches that were being done in the targeted Geography, they were only showing uo 48% of the time, missing 52% of the searches they wanted to be in front of.  The final major thing we uncovered was that currently they were only running a couple of very broad AdGroups and the keywords in those AdGroups were all set to broad match.  This type of AdWords management can certainly lead to traffic, but you will have a hard time performing well and getting enough specific data to make the necessary optimizations for increased performance.
Implementation:
The first step we took was to take the 8 AdGroups that were currently running and break them out into 20+ AdGroups that were more specifically targeted.  We implemented advanced conversion tracking through our software and processes so that we would be able to track every phone call and Request for Service form that comes in, what day and time it came in, and what exact search words did the potential customer use on Google which led to that conversion.  In an effort to increase CTR as quickly as possible, we moved all keywords to phrase match or modified broad match and broke them out to be more specific as well.  We overhauled the entire budget and bidding strategies to more targeted to the type of customer they wanted to attract.  Taking a look at their ad placement, we also increased their bids slightly to improve the positioning of the ads to try to increase CTR as well.  They were running limited ad copy in the 8 AdGroups, so we recreated ad copy and added several ads running in multi-variant testing to see what copy was performing the best.
Results:
22 days into their rebuilt campaign, we have seen marked improvement in their results.
The CTR is now at 2.50% up from 0.40%
Their Impression Share is up to 89.57% up from 48%
Their average ad position is now 2.6, up from 3.4
Their average cost per click is up to $7.35 up from $5.72.  This increase accounts for the improvement in CTR and ad positioning.
In 22 days, they have received 12 tracked phone calls that previously they were unable to detect
Their Conversion Rate (percentage of the time a potential client clicks through to their website and then calls or fills out the service form) is 11.11%