Top Digital Marketing Agencies
As part of a series of reports identifying digital marketing agencies, research firm Clutch published a report on the top digital marketing agencies in the Denver Area.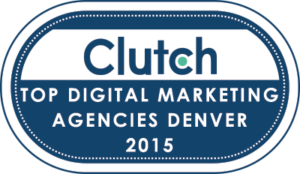 We are excited to announce that The Xcite Group was named among 2015's best in the Mile-High City! Based in Washington, D.C., Clutch examined Denver-based companies who have proven success through projects for domestic & international clients. Clutch has reviewed 900+ companies spanning 50+ markets.
Using a two by two framework called the Leaders Matrix, they mapped each firm's focus areas and ability to deliver on client expectations. Clutch took the time to gather objective evidence on The Xcite Group, such as relevant case studies, portfolio items, client lists, accolades, indicators of market presence etc., and compared our performance to other similar firms in the industry.  Both quantitative and qualitative factors were analyzed to examine a number of Denver based companies and to measure their success through delivered results.
We are honored to receive this recognition and happy that our team has put in such great effort to deliver fantastic results to our clients. It's truly outstanding to see our work get recognized by others.
Having just celebrated our 5th Anniversary, The Xcite Group prides itself on the level of service we provide to our clients.  Our goal is to improve our client's online results.  We work with companies who have invested significant time and dollars into their websites and are frustrated that they aren't producing the results they had hoped for.  Our digital marketing services include website design and development, pay-per-click management, social media marketing and search engine optimization.  Unlike other digital marketing agencies, we take great pride in our transparency and the relationships we build with our clients.
Visit our Clutch profile to learn more about our services, read our customer reviews, and add a review yourself.