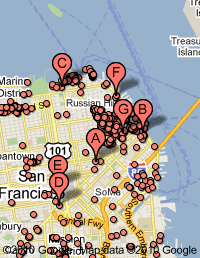 Just like finding Waldo, finding your business online now can be a bit confusing.  Google, among other search engines, has placed an enormous emphasis on Local Search in it's search results pages.  With the rise of smart phone use as well, it's now more important than ever to make sure that local business listings are a major part of your small businesses Internet strategy.  If you're a business that does not manage its profiles, local listings and city listings, you are missing tremendous opportunities — and challenges!
The changes Google has made to the landscape of their Search Engine Results Pages is evidence of the value they are placing on local search.  The map now resides in the upper right hand corner of the page, replacing 4 pay per click ads.  The ads have now moved down below the map.  Considering this puts many of the paid ads below the fold, and therefore possibly sacrificing some amount of potential revenue, Google has taken a stand the local results are of utmost importance.  Also worth noting is that the local listings are appearing above all organic search results and have taken up more space, pushing the organic listings further down the page.
Here are some stats worthy of a glance:
73% of all online activity is related to local content (Google)
82% of local searchers follow up with a phone call or show up on your doorstep (TMP/ComScore)
66% of Americans use local search to find local businesses (ComScore)
This marked move by Google is their official entrance into the Publishing world.  Prior to this new enhancement, Google was simply a search engine that gathered information and fed users to other sites.  They now control a decent amount of the page real estate as a publisher.
Google Places are like directory listings. A business owner can "claim" the page on Google and enter information.  For those who don't, Google automatically generates a Place page based on info it finds in databases.  The latest round of changes the search provider has made makes it more important than ever for you to claim your place page.
Here's whats new:
Google Places replaces mapped listings
Google places dominates the real estate on Page 1
Search Rankings may have changed.  Although Google won't confirm how it selects which businesses show up in these listings, even if you've done an excellent job of search engine optimization, you may find your company has dropped off the list.  Many believe that reviews have become an important part of ranking.  It's no secret that user generated, interactive content has been "watched" for some time now.  It's up to you to make the most of it.
Some review sites may count more than others.  I believe Google will give more weight to Yelp than sites like CitySearch.  This may be because Yelp doesn't publish every review written about a business.  Yelp applies a filter that attempts to weed out phony reviews.
This is more evidence of the growing importance of what some call "the reputation economy."  Not only is it more important than ever to understand how "Local" works, it's equally challenging to manage.  You used to have to worry about having good content on your website, reliable code and the credibility that comes from links on other sites.  Now, "It's what other people say about you, not about what you say yourself."
Now, let's take a closer look at what you need to do to make the most out of your Google Place and how profit from it.
Carefully Claim Your Listing.  Google scours the web to find information on business locations in order to return the best results when someone enters a local search query.  However, Google also gives you the option of providing this information yourself, a process it calls "claiming" your business.  Surprisingly, millions of small business owners haven't done so, even though it's free.  Don't be one of them.  Don't take any of the fields for granted either.  When claiming your listing, fill out all of the forms that you can on your profile.  Don't leave anything blank.  There are more than 20 different fields you in your Google Places listing and surprisingly most businesses don't bother to fill them all in.  At the end of the day, the difference between showing up on the first page of Google Places or not can boil down to not having a video as part of your listing.  Describe your business, your products and your services in detail and take advantage of uploading pictures and video.  Yes, making visuals for a service business can sometimes be tough, so get creative.  If you're a heating and air conditioning contractor, I don't need to see a picture of a furnace, but a picture of your new trucks or a nice video with comments from satisfied customers is great.  I believe you should ask yourself, "What do I have to say about myself and my company that would entice a potential customer to do business with me?"  Include not only the raw skills but also your softer side, brand attributes.
  Be Accurate.  Google Place Search returns what it thinks are the seven best results for any local search, based on it's algorithms.  While Google will never tell how those algorithms work or how the exactly determine ranking, the biggest factor is accuracy.  If your phone number and address differ across many of the main business databases, they'll flag it and make the claiming process more difficult.  Even little things like using an acronym in one place and the full name in another can lower your ranking in Google Place Search, as can something as seemingly minor as using "Johnson's" one time and "Johnsons" the next.  Be extremely consistent in your marketing and in how you register with professional organizations, licenses and directories.
Keywords are still key.   While Google Place Search takes into account factors including your business' location and reviews, it still uses keywords to drive those rankings.  You need to do the same careful keyword analysis you've done with any of your Internet strategies.  Don't trust your gut.  Use the many free tools available to search for related keywords and to understand which ones will help you show up in the magic seven Place Search results.  I would also list one or two of the cities or suburbs where your target market lives.  As with any content on the Internet, be sure not to over use your keywords.  Your description should be written for people with an eye for SEO.  For example, I had a client in the assisted living / retirement community business who thought it was paramount that they be highly ranked for the query, "senior living communities Denver."  However, analysis showed that many more people searched "assisted living Denver," making optimization for that phrase more important.
Encourage your clients to write a review on your Google places listing.  Recognize but don't bribe reviewers.  Because of the importance Google now places on reviews for local businesses in it's search results, courting reviewers is essential.  If you and 5 of your local competitors all have 100% scores on your listing, which is fast becoming the case, what will Google use to rank order these businesses?  The one component of the profile that is open ended is the review section so in many cases, the business with the most reviews can win the day.  Remember, however, that offering anything of value in return for a review is unethical.  To recognize reviewers after the fact is completely legitimate.  To give a reward in advance is not.  If someone finds out you're basically buying reviews, it can blow up in your face.  Neither should you give in to the temptation of writing reviews yourself.  Fake reviews are easy to spot, and they make you lose all of your credibility.  Ask for reviews from every customer as part of your regular customer satisfaction process.  In every correspondence with customers as for reviews and send them emails with links to review sites or give them a card with the URLs.  You should also have a good Reputation Monitoring tool in place to stay on top of your reviews.  If you don't have one, get one or at the very least scan the major review sites weekly, if not daily, and thank everyone who reviews you positively. After the review is published, you can offer a discount or add-on for the reviewer's next visit. Make sure to respond to negative reviews, as well, offering to make good.
Get Listed on the other Top Local Directories like:
Yelp
Bing
Yahoo!
CitySearch
FourSquare, Gowalla, Whrrl, Scavenger (SCNVGR)
6.  Make sure you are listed in your local phone book.  I know this sounds counter intuitive but the fact is Google looks to established sources of data to both build their database and check for local business information.  If you're not listed here, it may affect your ability to rank on the first page.  Having profiles that are well built, like we are discussing here, on the top Internet Yellow Pages sites, like Superpages.com can add to your credibility in Google's eyes.
7.  Your website still matters — a lot.  Google Place Search results include your address and phone number, so many searchers may not even click through to your site.  However, your website and how well its designed and how good the content is written are still a key element in your search results rankings.
Search Engine Optimization, Search Engine Marketing, Local Listing Optimization and Social Media Marketing have long been important for small business online marketing.  The difference is, now they are absolutely essential!  So take your Internet marketing seriously and dive in to your business online.  Find what makes you creative and what makes you stand out in a crowd!  Be Waldo and find out Where in the World of Google Place Search Your Business Is!!!