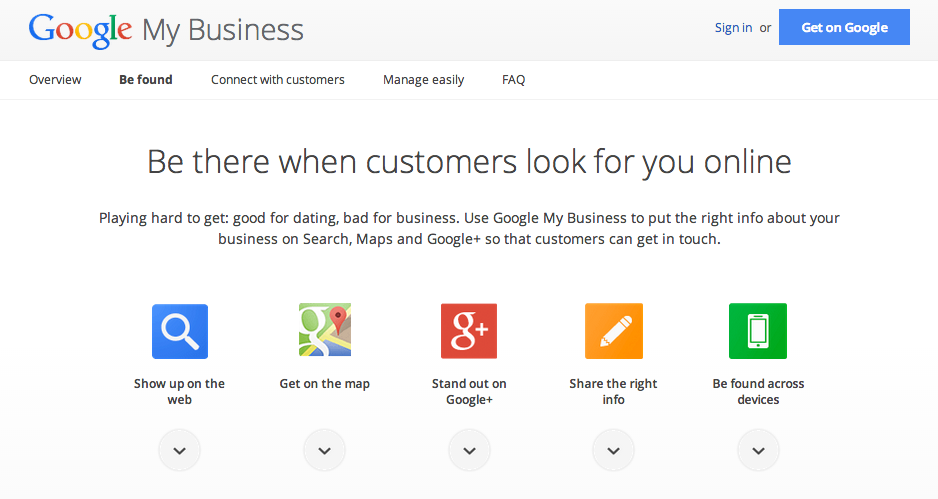 Yesterday, Google launched one of its most substantial local business products to date.  It's called Google My Business.  This shows a significant investment by Google in the local business space and sets the foundation for Google local business for the future.  This is the largest business owner facing launch ever for Google Local.  It rolled out yesterday and was launched globally in many languages.  The roll out is planned to be swift and likely everyone already has access.  The new product is available on desktop and mobile, with an Android App already released and an iOS App coming soon.  It's no secret that the internet is connecting more businesses, large and small, with potential customers every day.  However, the challenge to businesses of finding these potential customers can be time-consuming and complex.  Google's goal with Google My Business is to help you connect with the people you care about, both current and potential customers, easily and for free from wherever you are.
When you log in to your current Google+ Business Page, you will likely see the changes.  Everything has been re-branded to "My Business."  From there you will now see a more unified dashboard that seamlessly connects all of Google's business services.  It's pretty clear that Google's goal is to try to empower businesses to succeed in the digital landscape from desktop to social to mobile and they want "My Business" to be the information hub for business owners.
One of the best features I see right away is the ability post to Google+, respond to reviews and check your stats all from one convenient and very clean interface. The screenshot below shows what that looks like in the main "My Business" dashboard.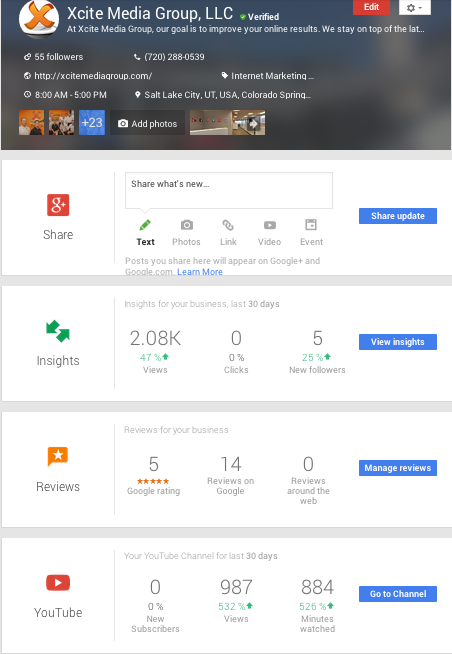 Let's start by taking a look at the new App Switcher, which sits at the top right of your dashboard page.  This allows you to quickly access any of the tools as part of the new Google My Business at any time from anywhere you are inside of My Business.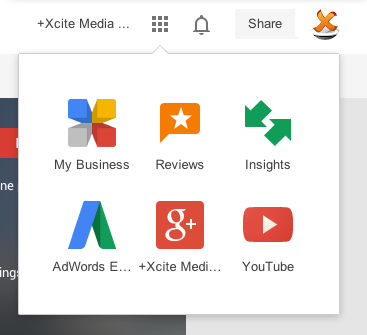 What are the key new features of Google My Business?
Google has spent a significant amount of time previewing this product and taking in all sorts of feedback from business owners, as well as agencies, throughout the development process.  In the short amount of time that we have had access to Google My Business, I am impressed with how functional and seamless it actually is.  From our perspective, it's amazing to see that Google has provided a product that answers so many of the pains we have all experienced in the Google local space.  To be clear, are there things still missing or things that will continue to morph?  Absolutely. However, it is truly a product that has many things we have been waiting for and much more.
Important New Features
Google My Business is a dashboard for Google+ Local and Google+ Business Pages all in one place!
New information page and landing page to easily log into you account – www.google.com/mybusiness
Much better messaging and calls to action prompts within the dashboard that allow you to complete and optimize your business easier
The App Switcher we spoke of above in the top right of the dashboard
Let's take a deeper dive into each section of the My Business Dashboard:
Business Info Editor

Profile completion bar with explicit instructions for what needs to be done to get to 100% complete
List of things to complete in your profile
editable fields open up dedicated content boxes, like contact info

Update your business info for Search, Maps & Google+ all from one place
Options for Deleting Listings, Reporting Problems and Get Help at the bottom of the Dashboard page
One of the best additions: View Your Business On Google, allowing you to see what your listing looks like quickly across Search, Maps and Google+

Insights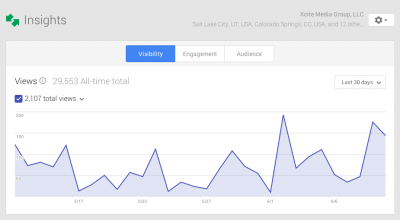 Visibility (Views, Clicks & Driving Directions Requests)
Engagement (Actions on Posts, Recent Posts, Average Action by Post Type) – really cool stuff here.  The ability to see the engagement on your posts, broken down by content type.

Audience (Who is engaging with you)  – Gender, Country, etc.  Some of this data isn't available until you get over 200 followers though
While the focus of this post is more on local businesses, the new Insights features will be especially interesting to those who manage non local Brand pages.  It provides more information to G+ page managers about who is interacting with their brand content.  These types of insights have been available for sometime to Page managers from Facebook, so this may be an instance of Google "catching up," but certainly it opens an opportunity for Brands to re-engage with Google+.
Reviews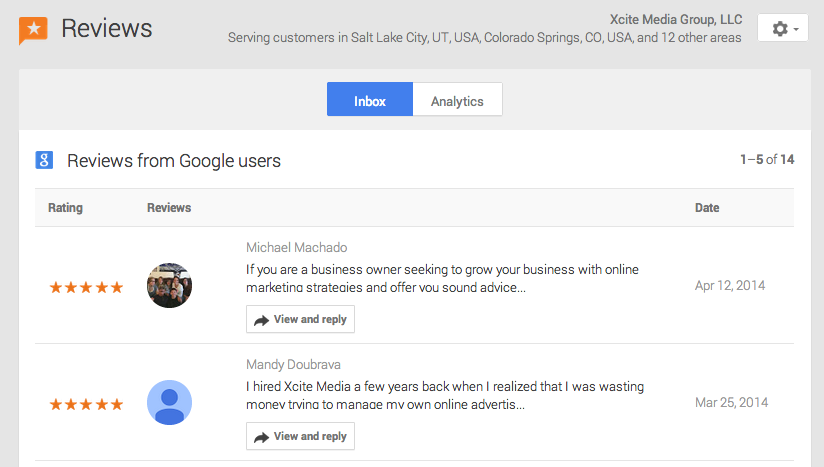 An Inbox that shows you your reviews on Google AND around the web.  Reviews on Google update immediately in the dashboard.
Responding to reviews is available right in the dashboard
Analytics are available for your reviews
YouTube

Basic engagement info on your videos is available for quick glance right in the dashboard
Ability to go directly to your channel from the dashboard
Managing Your Profiles On The Go
The ability to access, edit and post while on the go from your mobile device via an Android App and iOS (coming soon)

Managing Multiple Locations
If you are a franchise, a chain, or simply have multiple locations, Google has now made it easy for you to update and keep up on all of your locations in a much more streamlined way with a simple bulk location management tool.  This has long been a thorn in the side for many multi-location business owners.  Learn more about Managing Your Locations.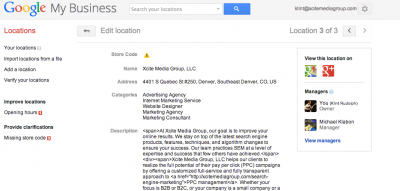 Here is Google Official Google My Business Product Announcement Video:

Google's launch of Google My Business is aimed at creating a unified dashboard to make life easier for both local businesses and big brands to manage their local visibility across Google Search, Maps and Google+.  By our estimation, so far so good.  I'm sure there will be some lingering problems getting everyone over to the new platform, but from what we can tell the updates are useful and we can't wait to see what more Google has in store for the local space.