A recent survey from the Association of National Advertisers (ANA) and Forrester Research finds that client-side marketers have concerns about the levels of transparency that exist between them and their media agencies. According to the survey results [download page, must be a member to view] , some 46% of marketers hold these concerns – and concerns are increasing for 42%.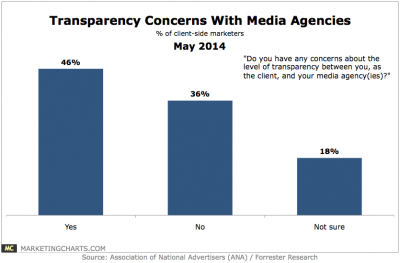 For the companies or clients that are concerned about the transparency of their agency, the main issues include uncertainty about where their ads will run (especially in digital meda) and not knowing what their agencies actually paid for the placements. Further analysis of those concerns in the survey unveiled that the most common concerns revolved around the reliance of some agencies on served impressions rather than viewable impressions.  For those that may not be aware, counting impressions is a measurement method by which most web advertising is accounted and paid for.  Viewable impressions are defined as a metric of ads that were actually viewable by an end user when served.  "Served Impressions", according to an article on the interactive advertising bureau, are recorded by ad servers and are counted whether or not the ad itself was fully loaded or in a space on a website where an end user could actually view it.
The Xcite Group uncovered a story that illustrates this point.  We took on a new client recently that was leaving the ad agency they were currently working with as a direct result of this very lack of transparency.  Our new client was engaged with an ad agency that was running some display advertising.  The agency had spent $10,000 in 7 days on behalf of the client and wasn't able to produce any kind of reporting on where the money was spent, what types of websites the ads were on, or if any level of engagement happened as a result of the ads being displayed.  This absolutely blew us away. Ten years ago this may have been common place as the tools, types of digital media and agencies were nowhere near where they are today.
In today's digital marketing world, businesses can demand more of the agencies they chose to partner with.  The granularity and transparency that are available today are truly remarkable. However, for many businesses, large and small, the Internet still embodies something new and complex. There is an innate level of distrust. Search marketing is morphing and new discovery marketing is providing marketers the opportunity to leverage new channels, improve lead generation, boost conversions and increase revenue. Interactive marketing budgets are expected to nearly double over the next five years in an effort to accommodate the ever-changing ways consumers connect with brands and seek information.  So the building of trust is imperative and the easiest way to build trust in a new relationship is through transparency.
The purpose of this article is to discuss the issue of agency transparency, both perceived and lack of it.  It's no longer adequate to say, "Trust us, we're experts", price on a flat CPM and provide a pretty monthly report anymore.  Xcite takes great pride in being 100% transparent.  We want to pull the curtain back on the wizard and get down in the trenches with our clients. We want to be true partners and get to know everything we possibly can about our clients' business, so that we are able to not only effectively and efficiently manage their digital budgets but also to truly make an impact on their business through their marketing campaigns. This transparency that we are speaking of goes both ways. If clients aren't transparent with their agencies about their business goals, sales processes, etc., then the agency is at a severe disadvantage. So let's examine for a minute what transparency means. For us, it's pretty simple. It means, "Do what you say you're going to and tell it like it is."  The Internet has moved us all at a breakneck pace from an era where people could "hide in their ivory tower" to a place of open access, lots of data, reviews everywhere and social media. In this new place, opinions and ideas are shared everywhere, nothing is held back, and there's nowhere to hide.
[Tweet ""Transparency means doing what you say you're going to do and tell it like it is." "]
So what does it mean to be transparent?  Here are some questions that we think you can use to pull back the transparency curtain a bit.
Technologies
Which technologies do you use and why?
Can I see how the tools work?
Pricing
What level of pricing transparency do you provide?
What is your pricing model? Flat Fee?  Percentage based? Flat margin? Variable margin?
Ongoing Management and Campaign-Level Transparency
How many people are involved in the daily management of my campaigns?
What degree of campaign transparency do you provide?
Can I see segment-, audience-, site- or strategy-level performance?
What is your optimization philosophy and what does that process look like?
How do you manage budget?
How do you manage frequency and overlap?
How do you manage quality control?
This is by no means an exhaustive list, but a pretty good starting point for things to think about in regards to transparency on the agency side.  As for the client side, here are some things that will help a good agency make a big impact on your company's bottom line.  Some of these may or may not be applicable depending on the type of business you have.
Client-Side Processes and Goals
What does a lead to your company look like?  Website sale? Phone call? Request for more info? Download?
Once you receive that lead, what does your internal sales process look like?
Who answers the phone at your company? A group? Call center? Salesperson?
What does your sales funnel look like?
What does your ongoing training program look like?
What is your team's closing rate on "leads"?
What is the average revenue per lead for your company?
What were your prior performance metrics?
These types of questions will really help your agency partner get to understand your business, so that they can actually help all the way through your process. Thanks to the many different types of digital advertising these days, understanding how your sales process and funnel works will help your agency partner design the correct strategy for you. It will help you hit potential customers all the way through your funnel across whatever media they are searching for when seeking information about your product or service.
How Can Client and Agency Be Transparent Together?
Here are some tips that can help you effectively be transparent:
Show your personality. Being transparent allows you to build a close relationship.  Don't be afraid to let your personality shine through in your communication with each other.  For instance, share photos of the kids, talk about what you like to do in your free time or share stories of the company party or trip. Seem silly?  Non-productive? Maybe, but people feel more connected and trust each other more when they understand truly who they are.
Don't suffocate conversation. You need to talk to one another. Ask questions you don't know the answers to and get necessary clarification on issues. First, truly listen to what is being asked. Then, instead of censoring your answers or being defensive, you should engage and resolve any issues publicly. (This is great advice for the social media space as well.)
Share your knowledge. Clients have immense amounts of knowledge about what they do, which can help an agency partner get "inside" the business even more. A good agency knows what they are doing in the digital space and has so much knowledge about what works and what doesn't, as well as how to make things work even better.  Innately, there is fear in "publishing" your knowledge and experience.  We don't want anyone to be able to steal that knowledge and use it against us or copy us.  Together you will prove that combined you have the answers to the problems you are facing and that you are worth doing business together and being partners. This is the crux of trust.
Proactively deal with your mistakes. We all make them. It's part of life and how we all got to today. If one of you makes a mistake or discovers a problem, be the first to admit it. By coming forward with the story before someone else discovers it, you can have better control of the emotion of the situation and prove that these mistakes are rare for you. Your audience will then see you as responsible and trustworthy.
We all know that everything we do isn't successful 100% of the time. With transparency and trust, great relationships are formed and you can overcome any temporary shortfalls in a client/agency partnership, and thus, results will continue to grow. The Xcite Group is a proud member of the Google Partners Community. This week, the community released its Manifesto. We believe it embodies not only what it means to be a member of Google Partners but also a great road map for a client/agency relationship. See the Manifest below.
[Tweet "In This Together. Always Growing. Value Camaraderie, Sharing & Learning"]