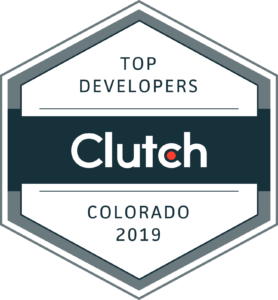 Here at The Xcite Group, we know that search is constantly evolving. We stay on top of the latest search engine products, features, techniques, and algorithm changes to ensure the success of our clients. As web developers, we take pride in our transparency and credibility. Clutch.co has taken note of our work, and to our excitement, has recently ranked us as a leading B2B company in their updated research on the top performing companies based in Colorado. Companies were listed under 5 different categories, and The Xcite Group is proud to be featured for our development expertise.
Clutch, based in Washington D.C., is a ratings and reviews site dedicated to bringing together businesses with the best agency or service provider for their precise needs. The platform can help businesses find everything from the best marketing support, to a website design from an agency like us. Clutch analysts interview agencies and providers' clients to collect feedback, analyze industry data, and compare competitors in particular markets.
Based on the reviews provided by our customers, we have been able to maintain a perfect 5-star rating on the platform. While a number can only speak so much, a previous project we did with a home improvement company demonstrates the quality of service we've been able to provide over the years.
Scott Bondy, Marketing Director of the home improvement company, needed help with a new website and SEO as he felt they could be spending less and gaining more business. Xcite worked with Bondy to create a solution, and as a result costs went down, their rankings on Google went up, and click through rates went up. "I think they're really ahead of the knowledge curve," praised Bondy. "I feel like working with them keeps us ahead of the curve."
While this is only one of the many thoughtful reviews left on Clutch, our success extends to their sister-sites: The Manifest and Visual Objects. The Manifest publishes industry reports, tech news, and how-to guides to help businesses wisely select their next partner. Here we are listed amongst other PPC agencies. Visual Objects strives to help businesses similarly, as it is a platform where you can view agencies or developers' previous work, and gage the quality and breadth of their design and development work.
If it weren't for our incredible clients, we would not be listed as one of the top developers in Colorado by Clutch! We sincerely appreciate their participation, as well as Clutch's, in taking the time to understand and give feedback on our quality services. As always, we hope to continue empowering businesses through turning their websites into one of their best performing sales people.