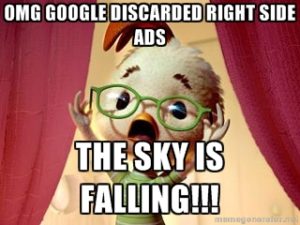 Beginning last Friday, February 19, Google rolled out the changes from its long-running test in which is removing Adwords ads from the right side of the desktop search results page.  In lieu of the right-side ads, Google will show up to four ads at the top of the page (showing four ads at the top instead of three will be for what Google calls "Commercially Relevant Queries") and ads at the bottom of the page.  There seems to be no "official" word on whether there will be three or four ads at the bottom.  We have seen examples of three and four ads showing in some queries over the last couple of months.
This change is something that Google has been testing since 2010 and making many tweaks along the way. Many of these reports over the last several years have come from sources outside the US.  Google confirmed on Friday that these changes were in effect and expected the rollout to be complete by February 22.
Google has confirmed that there are two exceptions to this change:
Google shopping's Product Listings Ads (PLAs) will continue to show either to the right or above the search results.
Ads showing in the Knowledge Graph cards.
No official external announcement has been made yet, just internal communications that have been passed on to the press and Agency Partners.  We have been following these tests over the last several months across accounts that we manage and have seen this "test" layout showing up regularly since December.
This change also is a significant move from Google to make the user experience for its users more seamless between desktop and mobile.  Google has been using this SERP layout on mobile for quite some time now.  From an SEO perspective, there are still 10 "organic" listings per page, but these results have been pushed further down.  As you can see in the screenshot below, with four ads showing in many queries and the Google My Business local listings, organic results now fall well below the fold.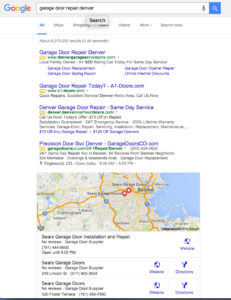 We have also seen that this change has not completely rolled out.  Doing the same search minutes apart, we got the old layout and the new layout, as seen here: (click to enlarge images)
In  Google SERP Feature Graph from Moz, you can see that bottom ads have been in play roughly 28% of the time over the last 30 days, while Adwords side ads have displayed 24% of the time.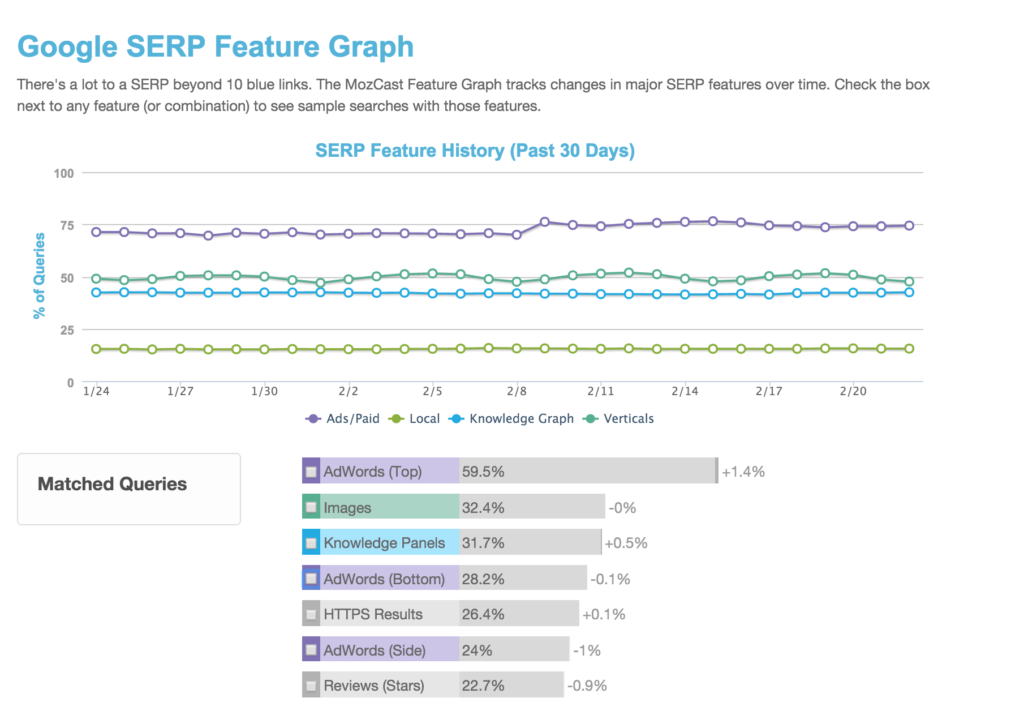 The point of showing the last 30 days in the SERP Featured Graph is to show that this change has already been occuring near as often.  Depending on your bidding strategy and your current ad placements, this change may or may not affect you at all.  If Google was showing three top ads and five to seven right-side ads before, that is a total of 10 ads.  The change shows six to eight ads, depending on the query. The final two ad positions on the page are what will see the effects.  In running Adwords campaigns for hundreds of clients over the years, we have seen that CTRs weren't particularly good for right-side ads anyway, so if your CTRs are affected by this change, you may want to re-look at your placement and bidding strategy.  Here is an example of a Top vs. Other Segmentation report in Adwords showing the difference in cost and CTR:

In this example, from September through today, this account has experienced a 3.14% click-through rate when in it is the top three positions and a .30% CTR when it is not.  It also has cost more per click to be below the third position.  Further analysis shows that there were far less conversions happening in the "other" positions as well.
Many analysts and paid search marketers are concerned that advertisers with limited budgets may get pushed out of the auction as a result of less ad space.  We happen to think that this thought process is a bit extreme, but we do believe that there will be advertisers who see a drop in traffic as a result of this change.  The biggest impact will be felt in the number of impressions that advertisers see.  Many of those side-bar ads receive a high number of impressions, especially if you are opted in to the Partners Network.  However, it is not clear how many ads in the Partner Network will actually be removed, as many partners, like Amazon, don't have side-bar ads anyway.  Nonetheless, the auction just became more competitive as a result of this change.  Over time, you will see CPC's rise and ultimately higher cost per conversion.  Exactly how much remains to be seen.  Regardless of the level CPC's raise, advertisers will have to be a bit more hands on with their accounts than they were before in deciding their bidding strategy for their keyword buys.
Even small businesses in competitive industries with small budgets can be highly effective with an Adwords campaign; you just need to take the time to analyze your strategy, the competitors and your goals to ensure that your campaign can run as effective and efficient as possible and return your desired results.  It's a seller's market now and that mingled with the possible addition of the 4th ad above the organic results, paid search and the local 3 pack are the best ways to be seen on a Google SERP.
Finally, this announcement is further proof that the time to do paid social ads on Facebook and Twitter is now.  While many feel that paid social is a secondary way to get relevant traffic, if costs rise on Google, some advertisers will be forced to go after social traffic as a way to make up for their losses.  Better to get in the paid social game now, than wait until your competition is already there.