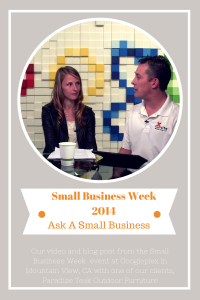 National Small Business week is an event that has happened every year since 1963 that recognizes the incredible contributions of the country's small business owners and entrepreneurs.  The U.S. Small Business Administration uses this week to highlight the outstanding accomplishments of these small business owners and entrepreneurs across all of the U.S.
In honor of National Small Business Week, The Xcite Group had the privilege of being invited to Google's Headquarters in Mountain View, Calif. to be a part of a fireside chat between Google, Google Partner Agencies and their clients.  The purpose of the chat was to look at the journey the agency and the client took together, the work they have done and the results they have achieved, as well as to share some best practices for the benefit of other small business owners.  The result of this is a Google AdWords case study for one of our clients.  We are grateful our client, Mandy Doubrava, Owner of Paradise Teak, was able to join us for the event.

Who Are The Xcite Group & Paradise Teak?
The Xcite Group specializes in Pay-Per-Click (PPC) management, web and app development, video production and advertising, social media management and content creation. Our focus is on really getting to know our clients and their business, so that we can effectively market them in any format.  Whether that be in PPC, social, video, Search Engine Optimization (SEO) or reputation management not every business — large or small — is the same.  So spending the time to work as partners is what sets Xcite apart.
Mandy Doubrava is the owner of Paradise Teak furniture company.  The company opened in 2006 and specializes in teak and wicker patio furniture.  They sell to families throughout the San Francisco Bay area, as well as commercial locations like hotels, restaurants and wineries.
When Did We Start To Work Together?
Xcite started working with Paradise Teak in 2012. A couple months after taking over Mandy's AdWords campaigns, we found we needed to do a website redesign.  After optimizing the AdWords campaigns and redesigning the site, we reduced Cost Per Click (CPC) and improved position and conversion.
How Do You Decide To Work With An Agency?
Mandy had originally set up and managed her AdWords account for about a year before hiring The Xcite Group.  As her business was growing, she found it harder and harder to find the time to devote to understanding all of the intricacies of AdWords and the potential effect digital marketing could have on her business.
Mandy says, "Working with Xcite showed me that my ads could be much more refined and targeted to specific searches,  without increasing my ad budget.  I was able to increase quality scores and positioning."
What Challenges Does Paradise Teak Face When Trying To Meet Marketing Goals?
Paradise Teak's biggest challenge is differentiating itself from the competition and letting customers know that there are options other than big-box stores when buying outdoor furniture.  Mandy believes that sometimes people feel more "safe" buying from a national brand. When in reality, a small business is much more devoted to each individual sale, and such businesses make it their mission to ensure each customer is happy. This is a challenge they face every day and work to overcome.
Another big challenge is limited advertising budgets. Paradise Teak is a family owned small business and simply cannot afford to spend money on advertising channels that are ineffective and don't bring in new business.  They need to be certain that every dollar they spend on advertising is effective and provides a good Return on Investment (ROI).   They are looking to grow and increase their market share. The advertising channels they choose must be very targeted. Paradise Teak is a destination-style business, in which customers already know about teak furniture and its benefits.  Customers are searching for better prices, better design, and better quality. AdWords has been a very effective medium for Paradise Teak because their customers searches are so specific.
What Challenges Did Xcite Face in Helping Paradise Teak Meet Its Goals?
We quickly found that the outdoor teak furniture business is very seasonal.  Searches never really fluctuate much throughout the year; however, conversions come very seasonally. It was imperative for us to make seasonal budget adjustments to accommodate the data.   We need them to be visible throughout the year, but placements need to be aggressive in season.
There are some  inherent difficulties with the furniture business being such a broad topic of search. For Paradise Teak, they only specialize in outdoor furniture made of teak, so managing negatives was a full-time job in the beginning of the campaigns. People who are looking specifically "know" teak and they know exactly what they want, such as "outdoor light-colored teak shower chair". So typical match types for teak furniture just weren't good enough. Our strategy became hunting the specific searches and tailoring our ads, geographies and every other aspect of the campaigns accordingly.
Budget and geography.  There are some really big international players in this space, so making sure we were using Mandy's budget as effectively and efficiently as possible was challenging.  How could we compete with huge budgets for such a niche product and make it successful?  Having to pay attention to daily traffic levels and making bid adjustments down to the day was one of our strategies.  For example, in the middle of their high season, we enacted a 5% bid adjustment on Mondays as our position tends to struggle on Mondays, but our conversion rates are really great. So by increasing the bids on Mondays, we improved our position and  achieved more clicks, which ultimately yielded more conversions.
What Is The Outcome of the The Xcite Group & Paradise Teak Partnership?
Naturally, trying to be conscious of Paradise Teak's business and marketing goals, we needed to make sure that we were responsibly managing their budget efficiently and effectively. So with the immediate restructuring of the campaign and the addition of a new website we were able to achieve measurable successes fairly quickly. What was interesting was that Mandy was actually doing ok from a metrics standpoint when she was managing the campaign on her own — if you just looked at the numbers in a vacuum.  During the year she was running her campaigns she achieved a 1.63% Click-Through Rate (CTR) with an average CPC of $2.17.  They received 7,853 clicks and had an average position of 5.5.  In the first couple of months of taking over Paradise Teak's account, we had cut her overall clicks in half, down to about 3,800.  Her average CPC also jumped up to $6.42.  Her position improved to 1.6 and her CTR was 4.74%.  Some would look at those numbers and think, wow they tripled her costs and brought in less traffic.  The reality is the traffic we removed was not relevant traffic and by being more competitive in bid and position for the narrow searches that are absolutely right for Paradise Teak we were able to transform their campaign into something that was tangibly growing their business.
Their business has grown at a rate they never would have imagined. Sales increased  by 45% the first year after hiring The Xcite Group and by another 35% last year. Paradise Teak  has just moved to a larger showroom and warehouse to accommodate their growth and  increased business.
What Advice Can Paradise Teak Give Advertisers When It Comes to Selecting Which Agency is the Best Fit For Their Business?
Mandy Doubrava: "Most importantly, I would pay great attention to how well the agency strives to understand your specific business and its objectives.  There are plenty of agencies out there with smooth sales tactics to get you on board.  But when they begin to manage your account, all of their efforts seem very routine, and not specific to the business at hand. Before Xcite, I tried another company and realized after a month that I had made a big mistake."
[Tweet "I would pay great attention to how well the agency strives to understand your specific business"]